"

Even when the whole world is despairing, it is our job to sing, to smile.

"

—Tenn Kujo

Tenn Kujo (九条 天, Kujou Tenn), the people's angel who thinks only of his fans. His sweet, innocent demeanor on stage and perfection in just about everything he does endears him to his fans, and Tenn's existence itself was considered something of a "secret weapon" during TRIGGER's formation and early days. Tenn was even called by fans and co-workers "Embodiment of Perfection".
His offstage persona couldn't be any more different; he's cold, callous, and almost all of his words seem to have some kind of vitriol behind them. Tenn is almost emotionless off stage and does not care for his mental or physical health much at all, but every now and then he keeps up his fitness by going for runs or, obviously, dancing. He and Gaku often butt heads because of differing opinions on what it means to be an idol on stage (Gaku prefers real honestly and being yourself, whereas Tenn does not care about his own health, he wants to please the fans even if he has to be fake and have them not worry.), but in the end, Tenn is considerate and respects his fellow members even when he disagrees with them and instead of fighting, would rather talk things out and come to an agreement.
With regards to Riku, Tenn's outward dismissal of his family ties belies the very real affection and worry he still holds for Riku, as well as the slight jealousy and sadness he feels at not being able to watch Riku grow up. Tenn has always been worried about Riku ever since he left, much of his emotionless cold off stage attitude comes from worrying about his brother so much, hence why he becomes much happier in the end when he is able to talk to Riku again with no hard feelings.
Room
---
Discography
---
Solo Songs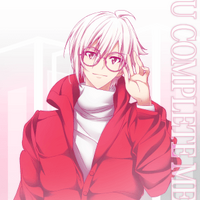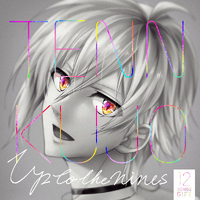 Relationships
---
Etymology
---
[1] Surname
九 (ku) = nine
条 (jou) = paragraph; article

Given Name
天 (tenn) = heaven; sky; air
Voice Actor Comment
---

These are comments regarding Part 3 [2] FOR YOU:
I'm sure you've all been waiting for Part 3 wondering when it'll finally happen, so I feel very happy about finally being able to bring it to you. When I read the scenario, I was drawn in even more deeply than Parts 1 or 2, so I wanted to bring it to you all the more quickly. However, the contents are heavy!
FOR TENN:
It'll soon be three years since we first met, but throughout these three years I myself have changed too, so every time I see a new side of yours, Tenn-kun, I think to myself "We've sure both changed.".
Trivia
---
Riku Nanase and Tenn Kujo have different blood types despite them being twins.
Tenn used to go for runs in the evening if work ended early, but recently he's been going on walks in the morning instead, when it's still dark out so that he can watch the sun rise as he works out.[3]
His dream date is watching the parades and shows with his partner at an amusement park.[4]
His ideal date spot would be at each other's house or some other place where they could relax.[5]
Tenn likes chewing on sugarcane.[6]
Tenn mentioned that he was singing for Riku's sake, after leaving the Nanase family and debuting as TRIGGER.[7]
His name, Nanase Tenn, has been removed from the Nanase family register and replaced with Kujo Tenn. Thus under the census, Tenn isn't part of the Nanase family anymore.[8]
References
---
↑

Girls's Style App Volume 1 [magazine interview]

↑

2D☆STAR VOL. 3 [magazine interview]

↑ Tenn Kujo (Rabbit Ears Parka 2) [Rabbit Chat]
↑ Ryunosuke Tsunashi (During Rehearsal ~ On Air 3); [Rabbit chats]
↑ Tenn Kujo (Novel Special); [Rabbit chats]
↑ Tenn Kujo (Novel Special); [Rabbit chats]
↑ Tenn Kujo (Ordinary Days); [Rabbit chats]