Doctor Strange in The Multiverse o Madness - The Loop
Play Sound
Story Navigation within the Game
This is an excerpt from the Master Guide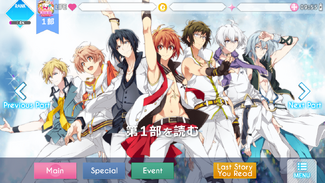 To access the Chapter Navigation of a Part, tap the screen on the Part you wish to view. Use the arrows on the side to go forwards or backwards.
Main Story: Obtained by fulfilling certain requirements, fully voiced.
Special Story: Obtained via Special campaigns, sometimes voiced, most not.
Event Story: Obtained by unlocking in their respective Events, not voiced.
Regarding all stories
Will give you 10 Experience for your Rank and 500 Gold upon completing a segment.
May give you a singular Gacha Ticket. Not all chapters do this, only some.
Has a little Kinako drawing at the bottom.
Regarding Story Live Bookmarks
In Part 2 and onwards, the unlocking story system changed a bit. Now in order to progress the story you need to complete that Story Live requirements which will earn you bookmarks, you only need two bookmarks to unlock the segment.

It's not required to get all three bookmarks as you only need two to progress. You don't get anything special for getting all of them. Actually, you don't get anything at all.

A story live costs 30 LP at first, but once you get two bookmarks it will cost 15 LP.
You can't play the Story Live with a Support card.
Story Live Requirements
Japanese Text
Translation
しおり[XXX]枚所持
Obtain [XXX] bookmarks
[XXX]回ライブをプレイ
Play the song [XXX] amount of times
SCORE[XXX]以上
Get a Score of [XXX] from the song
MISSを[XXX]回以内
Get less than [XXX] Misses from the song
COMBO[XXX]回以上
Obtain a combo of [XXX] from the song
コンボ[XXX]回以上
Obtain a combo of [XXX] from the song
[XXXX]から[XXX]人以上必ずいれてプレイ
Have [XXX] member from [XXXX] on your team while playing the Story Live
(This can be any character from the unit stated.)
指定されたグループのメンバーを必ずいれてプレイ([XX]から[XXX]人以上)
Play the Story Live with [XXX] members of [XX] on your team
(This can be any character from the unit stated.)
指定されたメンバーを必ずいれてプレイ ( [XXX] )
Play the Story Live with any of the following members on your team; [XXX].
[XXX]を必ずいれてプレイ
Have [XXX] on your team while playing the Story Live
Last Updated: August 25, 2019