White Special Day!
White Illumination Live Gacha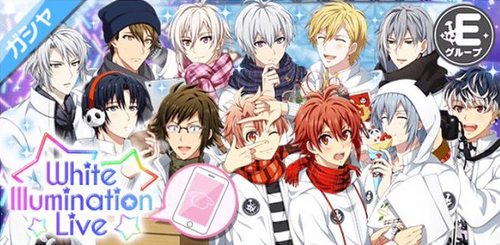 Starts: March 7, 2018 (17:00 JST)         Ends: March 29, 2018 (16:59 JST)
The cards in this set special feature is Rabbit Chats!
The cards in this set is Limited and they are SR to SSR cards, but they are not Ichiban Kujis.
This audition only offers the SR version of the cards, meaning you will have to get of the SRs and then idolize them.
This audition offers a discount on your first solo pull, and has normal pull rates.
Groups Distribution
Everyone from all groups are included in this set.
Group A
Featured Characters:
Run Time: March 7, 2018 (17:00 JST) ~ March 10, 2018 (16:59 JST)

Group B
Featured Characters:
Run Time: March 10, 2018 (17:00 JST) ~ March 13, 2018 (16:59 JST)

Group C
Featured Characters:
Run Time: March 13, 2018 (17:00 JST) ~ March 16, 2018 (16:59 JST)

Group D
Featured Characters:
Run Time: March 16, 2018 (17:00 JST) ~ March 19, 2018 (16:59 JST)

Group E
Featured Characters:
Run Time: March 19, 2018 (17:00 JST) ~ March 29, 2018 (18:59 JST)


Cards:
Trending pages
All items (12)