Seven Colored REALiZE
Nanatsuiro REALiZE - ナナツイロ REALiZE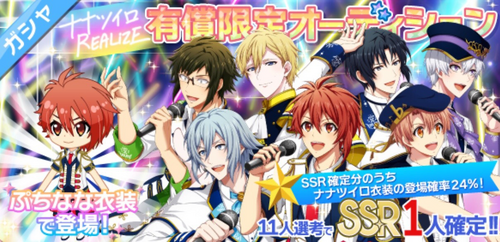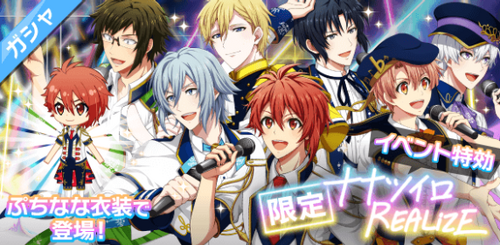 (Paid) Starts: March 27, 2018 (17:00 JST)         (Paid) Ends: April 3, 2018 (12:59 JST)
Starts: March 27, 2018 (17:00 JST)         Ends: April 10, 2018 (18:59 JST)
The cards in this set special feature is Puchinana of all of IDOLiSH7 in their Nanatsuiro REALiZE outfits.
The cards in this set is Limited and they are Pure SSRs, but they are not Ichiban Kujis.
This audition come in both paid and free stone varieties.

The Paid Stone Audition will only offer group pulls, and guarantees at least one SSR.
The Free Stone Audition offers a discount on your first solo pull, and has normal pull rates.
Groups Distribution
All of IDOLiSH7 are included in this set.

The Paid Stone Audition has everyone in it at all times during the gacha's duration. The following only applies to The Free Stone Audition
Group A
Featured Characters:
Run Time: March 27, 2018 (17:00 JST) ~ March 28, 2018 (16:59 JST)

Group B
Featured Characters:
Run Time: March 28, 2018 (17:00 JST) ~ March 30, 2018 (16:59 JST)

Group C
Featured Characters:
Run Time: March 30, 2018 (17:00 JST) ~ April 1, 2018 (16:59 JST)

Group D
Featured Characters:
Run Time: April 1, 2018 (17:00 JST) ~ April 3, 2018 (16:59 JST)

Group E
Featured Characters:
Run Time: April 3, 2018 (17:00 JST) ~ April 10, 2018 (18:59 JST)


Trending pages
All items (7)