IDOLiSH7 Anime
アイドリッシュセブン アニメ
A group of aspiring idols gather at Takanashi Productions and are entrusted with the company's future.

The seven men who have just met represent a variety of totally different personalities.

However, they each have their own charm and possess unknown potential as idols.

Forming a group, they take their first step together as "IDOLiSH7."

Their brilliantly shining dancing forms onstage eventually begin captivating the hearts of the people.

In the glorious but sometimes harsh world of idols,

They aim for the top with dreams in their hearts!

Information
An Anime Adaptation was announced during a Live Broadcast on NicoNico Live on August 20, 2016, the one year anniversary of the release of the game.[1] On June 19, 2017 the anime site opened and it was revealed that the anime project will consist of a TV series and a spinoff series.[2] On November 2, 2017 during the live screening it was announced that the Anime will consist of 17 episodes, following the storyline of the game while including sidestories!

On July 7, 2018 at the IDOLiSH7 First Live on day 1, it was announced that the anime adaptation will be getting a season 2![3] The staff is the same as season 1 and season 2 will be covering Part 2 of the IDOLiSH7 main story that can be found within the game!

The first two episodes were screened in advance on November 2, 2017 in Japan.[4] After the live screening, the first and second episodes were being broadcast for free on November 3, 2017 at 12:00 (JST).

The first two episodes had a special broadcast on January 1, 2018! However, the anime officially began airing on January 7, 2018 starting with Episode 3 and going from there.[5] Because the Anime Season ended, the anime went on a small hiatus on April 1, 2018 ending with Episode 15. The anime picked back up on May 19, 2018 at 19:30 JST where Episode 16 and 17 was aired back to back.

In regards to the spinoff series, it's called IDOLiSH7 Vibrato (アイドリッシュセブン Vibrato, Aidorisshu Sebun Vibrato). This series is going to be adapting the novels written by Tsushimi Bunta and turning them into the anime format.
07
Release date: August 28, 2018
Price: Blu-ray: ¥7,777 • DVD: ¥7,000
Cover character(s):

Episode list:
16. Resolve at Zero
17. making the dream
Bluray & DVD slipcase

IDOLiSH7′s Fan Thanksgiving Vol. 3 ~We need to speak about love with you more~ Event Picture
Cast/staff audio commentary
New Drama CD 誇りを胸に (Pride in Your Chest)
Anime scene bromide
Special booklet
Staff
All voice actors from both IDOLiSH7 and TRIGGER will be reprising their roles, and Tsumugi Takanashi will be voiced by Satomi Sato (佐藤 聡美 Satou Satomi)![4]



Staff

:
Original Work: Bandai Namco Online (バンダイナムコオンライン, Bandai Namuko Onrain)
Character Designs: Arina Tanemura (種村 有菜, Tanemura Arina)
Director: Makoto Bessho (別所誠人 Bessho Makoto)
Supervisor: Ei Aoki (あおきえい Aoki Ei)
Script: Ayumi Sekine (関根アユミ Sekine Ayumi)
Animation Character Design: Kasumi Fukagawa (深川可純 Fukagawa Kasumi)
Animation Studio: TROYCA (トロイカ)
Trivia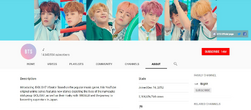 The anime's offcial site is named "Aninana" (ア二ナナ) which is extremely simmilar to "Ainana" (アイナナ, Ainana), exceptes there's an added "N" at the start making it "ani" which is the most common abbreviation for Anime.
The anime website is ran via wordpress. (Proof shown to the right)
January 17, 2019 - When the second half of Before the Radiant Glory (Vibrato) was about to be released, YouTube had a glitch where the introduction for Vibrato appeared on BTS's YouTube channel description. (Proof shown to the right)